Get Your Free Preview of
"Go! Reboot Your Career in 90 Days"

Available Now.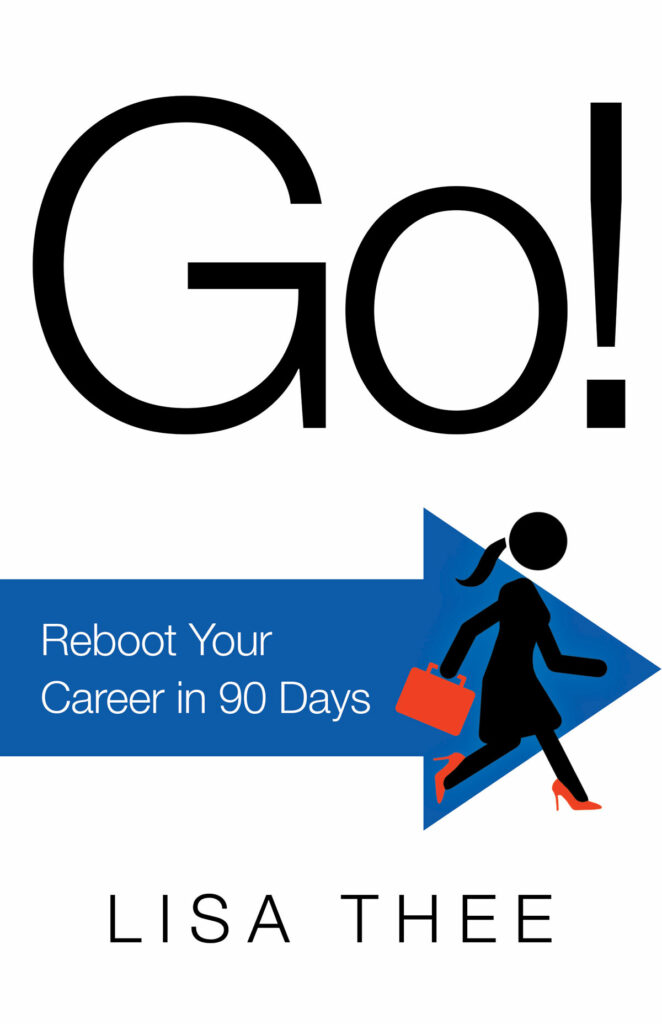 Get Your Free Preview of
"Go! Reboot Your Career in 90 Days"

Available now
Order "Go! Reboot Your Career in 90 Days"
Go! Reboot Your Career In 90 Days
Today's professionals have more challenges than ever facing them at work and at home, from differences still not fully respected in corporate culture to the impacts of technology (AI) and COVID-19 on health and family needs. As a result, too many rising stars get pushed out of the leadership pipeline, suffer through toxic work situations, or see their careers cut short when companies cut back.
With mounting responsibilities at home, too many talented people fear making a big change and stay too long in a job that is the wrong fit. Go! shows how to listen to those nagging feelings that it is time to change and then make a thoughtful and savvy plan toward a truly fulfilling career. Equal parts validation, empowerment, and guide, in Go! Lisa Thee provides powerful examples of transforming one's career from a wide array of leaders and from her own experiences. Lisa also outlines a versatile personal 90-day career reboot plan. In addition, Go! opens today's leaders' eyes to ways their work culture may need to evolve to keep the best talent and develop diverse leadership for their future. Data literacy, Innovation, and Artificial Intelligence are growing areas in the future of work, which is where Lisa's expertise and thought leadership shines.
Go! Executive's Guide to Inclusion in the Workplace
The cost of employee turnover in the US is around $160 billion, according to Deloitte. Beyond the monetary costs, lost employees also means lost time; full productivity is often delayed by three to six months for a new hire. Starting another search can get expensive fast.
Many factors contribute to turnover, and it's not just salary and benefits. You may lose valuable employees because they do not feel like they belong in your company; this may be because no one else at the company looks like them, or it may be because they don't feel included. You may also lose crucial partners by working them out of the job. Once you have high performers that are also great leaders, it is important to pay attention to signs of burnout. You don't want to be caught flat-footed by the surprise departure of a key team member.
Tired of pretzeling yourself into a career and work world that doesn't work for you? Go! Reboot Your Career in 90 Days helps you redesign your life and provide the hope, help, and community you need to flourish. Whether you're looking for more autonomy, purpose, or impact from your work, Lisa Thee gives you the career reboot actions to redefine success on your own terms and how to take the big leap of making that success a reality.
~ David Smith and Brad Johnson
Coauthors of Good Guys: How Men Can Be Better Allies for Women in the Workplace
Whether you need to build your own 90 day reboot plan or support people in your organization to build more fulfilling careers, you'll find a wealth of resources in Go!
~ JeanAnn Nichols
Executive Coach and 21st Century Leadership Professor, Stanford
GO! Reboot Your Career in 90 Days is a must-read for any woman in the workforce today. Lisa shares her personal story on how she redesigned her career and provides actionable steps for her readers to do the same. You will finish this book excited and empowered to create a career that is both fulfilling and impactful.
~ Jamie Fiore Higgins
Author Bully Market, My Story of Money and Misogyny at Goldman Sachs
With Go!, Lisa provides an original, personal yet very accurate analysis of the modern work equation. She has the courage to set up new standards in the way we should look at work, killing the "workaholic" model, and proposing a much healthier path to make the best of its work life.

She identified all the main ingredients of the modern work-life recipe : work ethics, diversity & inclusion, empathy, emotional intelligence, self-care, just to mention a few, and articulates them around a magical formula from which anyone could learn a lot from. She's not afraid to take her own example and show vulnerability to illustrate in a very humble way some of the principles she's building her approach on. On the other side, Go! balances those personal inputs with more generalist and easily activable advice, making the book a clear must for anyone who is willing to rethink its relationship with work, and make the right choices to be aligned with its purpose.
~ Kévin BOUCHAREB
Future Of Work & HR Strategy Director @ Ubisoft
Compelling and inspirational, Lisa distills her life experience and shares the success formula for navigating today's world of work on your own terms. Her 90 day career reboot plan is a roadmap for women seeking a more fulfilling work and life.
~ Amii Barnard-Bahn
Bestselling Author, The Promotability Index, and Thinkers360 Top 25 Coaching Thought Leader
Get Your Free Preview of
"Go! Reboot Your Career in 90 Days"

Coming Later This Year